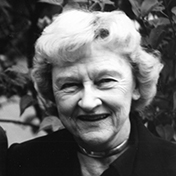 Natalie K Vallee
Founder
July 30, 1921 – November 23, 2011
Dr Natalie (Kuggie) Kugris Vallee was born in Girardville, Pennsylvania and came to Boston, Massachusetts in 1944 to attend Boston University.  She earned her BS and EdM in Biology from Boston University while working as a Graduate Teaching Assistant in the Science Department at Boston University and also as a research consultant at the New Hampshire Mental Hygiene Clinic.  In 1952, Dr Vallee earned her EdD, also from Boston University, and subsequently became Professor of Biology at Lesley College, which at the time was an all-girls institution. She served as a Professor at Lesley for 27 years.  During her term there, Dr Vallee made an unprecedented and rather unconventional move.  While visiting Denmark and Sweden, Dr Vallee witnessed the candor in which the topic of human sexuality was discussed by professors and their students.  Inspired by this, she brought that same methodology to Lesley College.  Although this was discouraged by the institution, she boldly invited guest speakers to lecture on such topics as biology, physiology, psychology and sociology as it related to human sexuality, marriage and the family.
Dr Vallee was a member of the National Association of Biology Teachers, National Science Teachers Association, National Alliance on Health Education, Pi Lambda Theta as well as many other professional organizations.
In 1991, she became Professor of Biology, Emeritus and subsequently was appointed Lecturer on Biology in the Center for Biochemical and Biophysical Sciences and Medicine at Harvard University where she remained until her retirement in 2002.