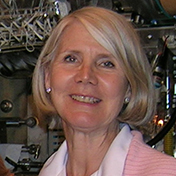 Sheila Ohlund, MA
Director, The Vallee Foundation
Managing Director, Grove Financial Services GmbH
Sheila Ohlund is the Founder and Managing Director of Grove Financial Services GmbH, an independent asset management and financial coaching firm.  Financial consulting is based on a highly individualised approach that integrates sound financial principles to specific investment requirements.
Sheila has over twenty years of investment experience at major financial firms.  She was a Partner at a major global asset manager in London and subsequently Director of Portfolio Strategy and Fund Research and Selection at their Zurich offices.  Sheila had previously been Executive Director and Head of Research at a major bank in Zürich and had been Portfolio Manager at that bank's offices in London.  She was previously responsible for thematic equity investment at an American global asset management firm in London.
Sheila began her career at Price Waterhouse as a Certified Public Accountant (CPA).  Sheila received a Master's degree in Economics from the London School of Economics and a Master's degree in Management at the Sloan School of Management at the Massachusetts Institute of Technology (MIT).  Sheila is a certified financial analyst (CFA).