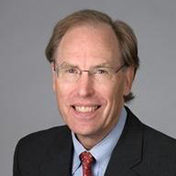 Michael F O'Connell, JD
Assistant Secretary, The Vallee Foundation
Director, Rackemann, Sawyer & Brewster
Michael F O'Connell is a Director at Rackemann, Sawyer & Brewster where he has practiced law since 1971, and is Chairman of their Tax Practice Group.  He concentrates his practice in the areas of business, real estate, tax, governance and financial planning for both for-profit and not-for-profit organizations, partnerships and limited liability companies, individuals and corporations, and estate and gift tax planning for individuals. 
Mr O'Connell worked closely with Bert and Kuggie Vallee and has served as Assistant Clerk and Assistant Secretary of the Vallee Foundation since 1998.
 
He is a member of the American Bar Association, the Massachusetts Bar Association, the Boston Bar Association, and the Fellows of the American Bar Foundation.  He has served on the boards and various committees of charitable organizations including: Partners HealthCare System, Inc.: Committee on Professional and Institutional Conduct; International Fund for Animal Welfare Inc; Operation Smile (Greater Boston Chapter); Brigham Surgical Group Inc; BWH Anesthesia Foundation Inc; Brigham and Women's Hospital: Chairman, Ventures Advisory Committee; and Brigham and Women's Hospital.  He is currently a trustee of the Brigham and Women's Physicians' Organization and chairman of its Compensation Committee, as well as a member of the Standing Committee on Conflicts of Interest at Harvard Medical School.  He has been honored by Best Lawyers in America, 2005-2013.