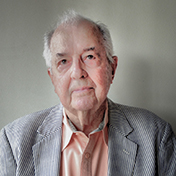 David Ogden, AB, AMP
Vallee Foundation Director Emeritus
In the three decades that David Ogden served as an investment advisor to Bert Vallee and the Vallee Foundation he has played a vital role in supporting both the financial growth of the foundation and the achievement of key foundation goals.  Prior to starting his own business, Investment Advisory Company, where he oversaw the investments of a number of high-net-worth individuals, Mr Ogden was a partner at Wellington Management.  There, he was one of the original partners and manager of the Investment Counsel Division and was the founder and first manager of Wellington's London office.  His financial career started with Kidder Peabody.  He later became the Assistant Treasurer for the University of Rochester and in 1954 joined Massachusetts Investors Trust as an investment analyst.  He served on the board of the Boston Financial Analysts Society and was President of Thorndike, Doran, Paine and Lewis until the firm merged with Wellington Management Company.  Over the years Mr. Ogden served on many boards including the DeCordova Museum, and The Cambridge School of Weston.
Mr Ogden was born in the England and educated there and in France before moving to the United States in 1940.  He enrolled at Harvard University, but his undergraduate career was interrupted when he volunteered for the 10th Mountain Division.  His military service took him to the Philippines and Okinawa.  Afterwards, he returned to Harvard and graduated in 1949 as a member of the class of 1946.
His friendship with Bert Vallee brought Mr Ogden into the world of scientific research, further stimulating his already inquiring mind.  The two shared a special enthusiasm for discovery and applied an intellectual rigor that benefited the foundation and each of them personally.