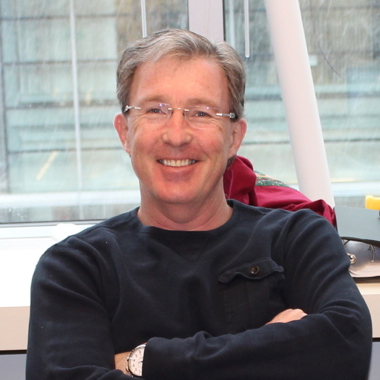 Tyler Jacks, PhD
Founding Director, Koch Institute for Integrative Cancer Research, MIT
David H Koch Professor of Biology, MIT
Daniel K Ludwig Scholar for Cancer Research, MIT
Head, Lustgarten Laboratory for Pancreatic Cancer Research at MIT
President, Break Through Cancer
VVP 2016: Weizmann Institute of Sciences (host: Moshe Oren)
Dr Tyler Jacks is a world leader in the field of cancer genetics and is known for his ground-breaking work on the development of genetically-engineered mouse models of cancer (GEMMs). Over the course of his academic career, he has published over 300 peer-reviewed papers along with numerous review articles and book chapters. Dr Jacks graduated magna cum laude with a BA in Biology in 1983 from Harvard College before becoming a graduate student in the laboratory of Dr Harold Varmus at the University of California, San Francisco, where he showed that ribosomal frameshifting during translation gives rise to the gag-pol protein of the Rous sarcoma virus, HIV-1 virus, and mouse mammary tumor virus. He went on to demonstrate that a stem-loop structure and RNA sequence making up the frameshift site are required for efficient frameshifting in vitro. In 1998, Dr Jacks returned to Cambridge, Massachusetts, to join Dr Robert Weinberg's group as a post-doctoral fellow at the Whitehead Institute, where he developed several GEMMs, including the Rb, p53 and Nf1 mice. In 1992, Dr Jacks became an assistant professor in the MIT Department of Biology and a member, then director, of the MIT Center for Cancer Research, which became the Koch Institute for Integrative Cancer Research in 2011.
He is the David H Koch Professor of Biology and the Founding Director of the Koch Institute for Integrative Cancer Research at MIT. He was a long-standing Investigator of the Howard Hughes Medical Institute (1994 – 2021). Dr Jacks is also President of Break Through Cancer, a foundation committed to supporting multidisciplinary, multi-institutional teams of researchers with a goal of finding new solutions to the most intractable challenges in cancer.
 
The Jacks lab has focused on developing new methods for the construction and characterization of GEMMs of human cancer. His group has produced GEMMs with constitutive and conditional mutations in several tumor suppressor genes, oncogenes, and genes involved in cell cycle control and apoptosis. Using these strains, the laboratory has developed models of various human tumor syndromes and cancer types, including Li-Fraumeni Syndrome, neurofibromatosis type 1, astrocytoma, retinoblastoma, pancreatic cancer, invasive colon cancer, soft tissue sarcoma, endometriosis, ovarian cancer, and lung adenocarcinoma. These GEMMS have been used to examine the mechanism of tumor initiation and progression, to uncover the molecular, genetic, and biochemical relationship to the human diseases, as tools to study response and resistance to chemotherapy, and to explore methods in molecular imaging and early detection of cancer. His laboratory has also extensively studied human tumor-derived cells, determined protein function in these cells, and related gene expression patterns in human cancers to their studies in mouse models. Novel pathways and processes that are critical for the progression of cancer have been discovered during these investigations.
In recent years, the Jacks lab has moved into the burgeoning area of tumor immunology and utilizing GEMMs to understand the interactions between the immune system and cancer. In particular, the lab has developed mouse models of lung, pancreas, and colon cancer of that harbor mutations in cancer-associated genes and that also expresses model T cell antigens, which serve as targets for tumor-specific T cells and stimulate anti-tumor immune responses. These models offer a unique platform for investigating how anti-tumor immune responses shape tumor gene expression, and importantly how tumor evasion mechanisms contribute to the development of advanced disease.  Moreover, they are invaluable preclinical models for testing immunotherapeutics, as single agents, or in combinations with traditional or targeted therapies.
Dr Jacks has received numerous awards and honors for his contributions to the study of cancer genetics including the AACR Outstanding Achievement Award, the Amgen Award from the American Society of Biochemistry and Molecular Biology, the Chestnut Hill Award for Excellence in Medical Research, the Paul Marks Prize for Cancer Research, the Hope Funds for Cancer Research Award for Excellence, and the Sergio Lombroso Award in Cancer Research. He was also a 2013 honoree of the MGH Cancer Center's One Hundred celebration. Dr Jacks served both as Chair and Member of the National Cancer Advisory Board at the National Cancer Institute as well as a member of the Board of Directors of the American Association for Cancer Research (AACR), where he was elected President of the organization in 2009. Dr. Jacks was also elected to the National Academy of Sciences, the National Academy of Medicine, the American Academy of Arts and Sciences, and the inaugural class of Fellows of the AACR Academy. Dr Jacks serves on the Board of Directors of Thermo Fisher Scientific and Amgen. He is a co-founder of T2 Biosystems and Dragonfly Therapeutics, and serves as an advisor to several other companies.
In 2015, he was the recipient of the Killian Faculty Achievement Award, the highest honor the MIT faculty can bestow upon one of its members. Dr Jacks co-chaired the Blue Ribbon Panel for the National Cancer Moonshot Initiative, a working group of the National Cancer Advisory Board that provided expert advice to the task force lead by then Vice-President Biden. He had previously served as chair of the National Cancer Advisory Board during the Obama administration.