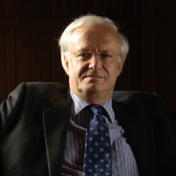 Sir Christopher Dobson, DPhil, ScD, FRS, FMedSci (1949-2019)
John Humphrey Plummer Professor of Chemical and Structural Biology
Master, St John's College, Cambridge
VVP 2016: University of Florence (host: Fabrizio Chiti)
Christopher Dobson's research interests were primarily focused on the investigation of the structures and properties of biological molecules, especially proteins, and their relationship to biological evolution and disease. He and his group had particular interest in the fundamental science underlying protein folding and misfolding, and the relationship of the latter phenomenon to such disorders as Alzheimer's and Parkinson's disease. 
Educated at Oxford (BA 1971; BSc 1971; MA 1974; DPhil 1976), Christopher Dobson devoted his career to protein science and structural biology. He was an expert in protein misfolding and its links to disease. Apart from the three years 1977-1980 when he was at Harvard University and MIT, his career from 1975 to 2001 was at the University of Oxford. In 2001 he became John Humphrey Plummer Professor of Chemical and Structural Biology at the University of Cambridge, and in 2007 Master of St John's College, Cambridge.
Chris Dobson, who had been diagnosed with cancer earlier in the year, died peacefully on Sunday, September 8, 2019, surrounded by his family.