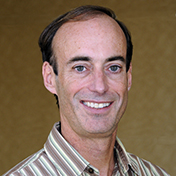 Ronald D Vale, PhD
Professor, Cellular and Molecular Pharmacology, University of California, San Francisco
Howard Hughes Investigator
VVP 2014: Institut Curie (host: Genevieve Almouzni)
Ronald D Vale's research has focused on how cargoes are transported within cells using molecular motor proteins.  He was involved in the discovery of  "kinesin" and elucidated its mechanism of movement using structural and single molecule approaches.  He currently studies the mechanism of dynein, a much larger and less well understood molecular motor.  His lab also investigates the assembly of the mitotic spindle and the mechanism of T cell signaling.
Dr Vale is involved in several activities that benefit the scientific community.  He founded iBiology.Org, a project that produces videos of scientific talks by leading scientists and makes them freely available.  He founded IndiaBioscience.Org, a web site for the life sciences in India, and also started the annual Young Investigator Meeting for young Indian scientists.  He previously co-directed the MBL Physiology Course for five years and founded/directed the Bangalore Microscopy Course.  Vale's laboratory developed free, open source software for light microscopy (MicroManager).  He recently served as President of the American Society of Cell Biology.  Vale co-founded Cytokinetics, Inc., and serves on their SAB.
Dr Vale received his PhD in Neurosciences from Stanford University in 1985, was a Staff Fellow with the NIH stationed at the Marine Biological Laboratory in 1985-6, and began his faculty appointment at UCSF in 1987.  He received the Lasker Award in Basic Medical Research, the Massry Prize, the Wiley Prize, and the Pfizer Award in Enzyme Chemistry.  He was elected to the National Academy of Sciences in 2001, the American Academy of Arts and Sciences in 2002, and the European Molecular Biology Organization in 2012.