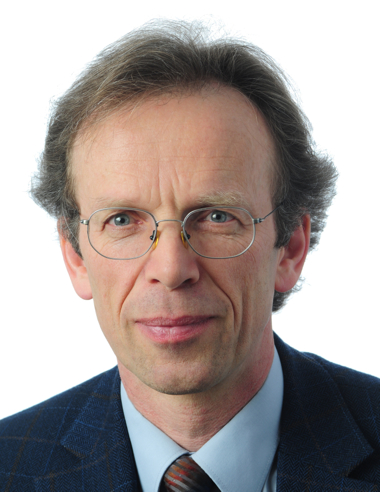 Martin J Lohse, MD
Chairman, ISAR Bioscience Institute, Planegg/Munich
Professor of Pharmacology, University of Würzburg
VVP 2017
Martin J Lohse's research focuses on the role of receptors in cell signaling and in (patho‑)physiology and on the mechanisms of their activation and inactivation.  He pioneered the use of optical techniques to determine where, when and how fast receptors become activated by hormones and neurotransmitters.  He has analyzed receptors by single molecule microscopy and discovered the highly localized nature of intracellular signaling. With a focus on pathophysiology, he discovered that beta-1 adrenergic receptors and their regulatory G protein-coupled receptor kinases are dysregulated in heart failure.  These data contributed to the use of beta-blockers in heart failure patients.
Martin Lohse studied Medicine and Philosophy at the Universities Göttingen, London and Paris. He performed his MD studies in Neurobiology at the Max Planck Institute for Biophysical Chemistry in Göttingen. Further stages in his career took him to Bonn, Heidelberg, Duke University in Durham (USA) and the Gene Center of the Ludwig-Maximilians University Munich and the Max Planck Institute for Biochemistry in Martinsried (Munich). In 1993 he became a Professor and Director of the Institute for Pharmacology and Toxicology at the Universität Würzburg. From 2001 to 2016, he was Founding Speaker of the Rudolf Virchow Center, the DFG Research Center for Experimental Biomedicine of the Universität Würzburg, and from 2003 to 2016, he was Founding Director of the Graduate Schools of the University of Würzburg. From 2009 to 2015, he was Vice President for Research of the University of Würzburg, and from 2009 to 2019, he was Vice President of the German National Academy of Sciences Leopoldina. From 2016 to 2019, he was Scientific Director of the Max Delbrück Center in Berlin, and in 2020 he became Chairman of the ISAR Bioscience Institute in Planegg/Munich, a translational research institute and biotech incubator. He has co-founded four biotechnology companies.
Martin Lohse has received multiple awards for his scientific achievements, among them the Leibniz Prize of the German Research Foundation (DFG) and the Ernst Jung Prize for Medicine, as well as two prestigious grants by the European Research Council.