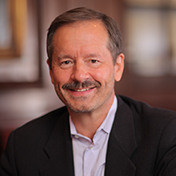 Lewis C Cantley, PhD
Professor of Cancer Biology
Dana Farber Cancer Institute; Harvard Medical School
Director, The Vallee Foundation
Vice President, The Vallee Foundation
VVP 2006: University of Oxford (host: Louise Johnson)
Lewis Cantley is a pre-eminent scientist in basic and clinical cancer research.  In the mid-'80s, he discovered the signaling pathway phosphoinositide 3-kinase (PI3K), responsible for cell growth.  His pioneering research revealed the pathway by which PI3K controls cell growth in response to growth factors.  He has worked to identify new treatments for cancers that result from defects in the pathway.  This discovery, which has led to one of the most promising avenues for the development of personalized cancer therapies, has since resulted in revolutionary treatments for cancer, diabetes and autoimmune diseases. 
Dr Cantley graduated summa cum laude in 1971 with a Bachelor of Science degree in chemistry from West Virginia Wesleyan College and obtained a PhD in biophysical chemistry from Cornell University in 1975 where he worked with Gordon Hammes.  He then moved to Harvard University for a postdoctoral fellowship under Guido Guidotti.  There he became assistant professor of Biochemistry and Molecular Biology in 1978 and associate professor in 1981.  Dr Cantley was appointed as professor of physiology at Tufts University in 1985, but returned to Harvard Medical School as professor of cell biology in 1992.  In 2003 he became a founding member of the newly formed Department of Systems Biology at Harvard Medical School.  In 2007, Dr Cantley also became the Director of Cancer Research at the Beth Israel Deaconess Medical Center.  In 2012 he was appointed director of the newly established Cancer Center at Weill Cornell Medical College and New York-Presbyterian Hospital and in 2022 he returned to Harvard Medical School, with an appointment of Professor of Cancer Biology at Dana Farber Cancer Institute.
Dr Cantley is a Fellow of the American Academy of Arts and Sciences, a member of the National Academy of Sciences, and in 2014 was elected to the Institute of Medicine of the National Academies, one of the highest honors in the fields of medicine and health.