Back to Meetings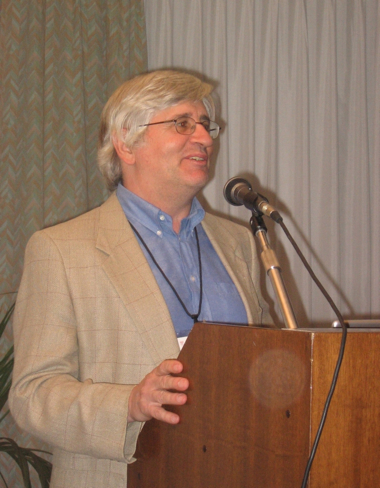 Boston, MA
2004 Boston, MA
The 2004 meeting, held in Boston, was devoted to two themes:
"Molecular Pathology"
Wade Harper (Harvard Medical School): Structural and functional anatomy of SCF ubiquitin ligages
Peter Howley (Harvard Medical Schoo): Papillomaviruses: the secret to persistence
"Clinical Nanochemistry and Molography: A Tribute to Allen Hill"
N Butler : Towards smaller and smaller sensors
Alan Bond (Monash University): Allen Hill's influence on antipodean bio-electrochemistry
Malcolm Green (University of Oxford): Molography: towards the determination of interatomic distances in molecules in solution
Gerard Canters (Leiden University): Implementation of copper for in vitro and in vivo redox chemistry
Allen Hill (University of Oxford): Serendipitous sensors.  (Allen Hill's pioneering work on protein electrochemistry would later earn him a Royal Medal from the Royal Society in 2010.)
Both formal and informal science reports were given by Vallee Visiting Professors:
Stephen Sligar (University of Illinois at Urbana-Champaign): Nanotechnology for drug discovery and therapeutic delivery
Louise Johnson (University of Oxford): How do protein kinases find their substrates?
Gordon Hammes (Duke University Medical Center): Single molecule studies of enzyme reactions
Moshe Yaniv (Institut Pasteur): The HNF1 homeoprotein: key regulator of organ development
Earl Davie (University of Washington): The blood coagulation cascade and the role of the platelets.