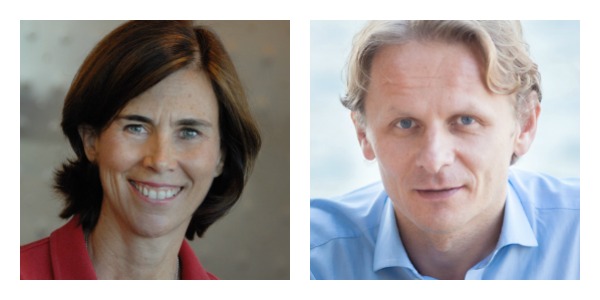 Two VVPs elected to American Academy of Arts & Sciences
Vallee Visiting Professors Jennifer Lippincott-Schwartz (HHMA - Janelia Research Campus) and Ivan Dikic (Goethe University Medical School, Frankfurt) are among the newly-elected members of the American Academy of Arts and Sciences announced this week. The 2019 class of more than 200 members recognizes the outstanding achievements of individuals in academia, the arts, business, government, and public affairs. 
"One of the reasons to honor extraordinary achievement is because the pursuit of excellence is so often accompanied by disappointment and self-doubt," said David W. Oxtoby, President of the American Academy of Arts and Sciences. "We are pleased to recognize the excellence of our new members, celebrate their compelling accomplishments, and invite them to join the Academy and contribute to its work."
Jennifer Lippincott-Schwartz has pioneered the use of green fluorescent protein technology to analyze the spatio-temporal behavior and dynamic interactions of molecules in cells. These approaches have helped to change the conventional 'static' view of protein distribution and function in cells to a more dynamic view that integrates information on protein localization, concentration, diffusion and interactions that are indiscernible from protein sequences and in vitro biochemical experiments alone.
Ivan Dikic, one of 42 new International Honorary Members from 23 countries, uses multidisciplinary approaches ranging from structural biology, bioinformatics, biochemistry and molecular biology to study complex biological problems relating to ubiquitin (Ub), a small protein that is covalently attached to thousands of cellular proteins. His early scientific interests were focused on the role of protein tyrosine kinases in mitogenic signal transduction pathways and the importance of the proto-oncogene Cbl and its associated proteins in the differential regulation of receptor endocytosis and degradation. His current research focuses on the role of linear ubiquitin chains in innate immunity and inflammatory pathways. He also studies autophagy, which is a major quality control pathway that sequesters diverse cytosolic components and delivers them to the lysosome for degradation.
The Academy was founded in 1780 by John Adams, John Hancock, and others who believed the new republic should honor exceptionally accomplished individuals and engage them in advancing the public good. The Academy's dual mission remains essentially the same 239 years later with honorees from increasingly diverse fields and with the work focused on the arts, democracy, education, global affairs, and science.
"With the election of these members, the Academy upholds the ideals of research and scholarship, creativity and imagination, intellectual exchange and civil discourse, and the relentless pursuit of knowledge in all its forms," said President Oxtoby.