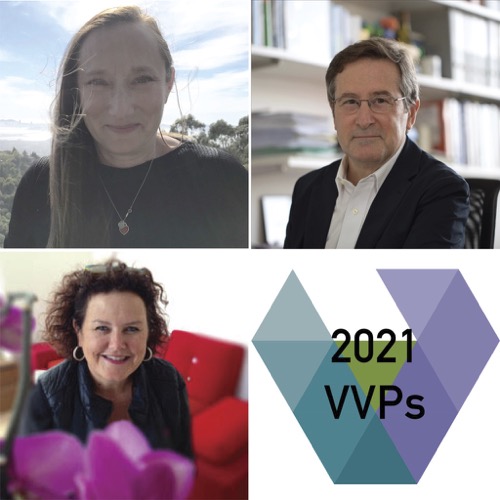 Three New Vallee Visiting Professors
We are delighted to announce the appointment of three internationally recognized leaders in the biomedical sciences as new Vallee Visiting Professors (VVPs).  This year's appointments honor Judith Frydman at Stanford University, Michael N Hall at the University of Basel's Biozentrum, and Erin Schuman, Director of the Max Planck Institute for Brain Research in Frankfurt. In addition to a $25,000 honorarium, VVPs take a one-month sabbatical at a research institute of their choosing.  This provides an opportunity to explore new concepts and ideas, exchange scientific views, and establish and strengthen collaborative relationships with other researchers. In addition, VVPs become part of the Vallee community and their ongoing participation in programs such as the biennial summer symposia is integral to the growth and continuing success of the Vallee Foundation.
Judith Frydman, PhD, is the Donald Kennedy Chair in Humanities and Sciences and a professor in the Departments of Biology and Genetics at Stanford University. Her research has made important contributions to understanding proteostasis in eukaryotic cells. Her work defined the distinctly regulated proteostasis networks that mediate cotranslational folding and those protecting the proteome from proteotoxic stress. These findings are fundamental to identify specific interventions that disfavor the production of toxic protein species and to understand the link between aging and loss of cellular robustness. This knowledge also helps develop therapeutic approaches to ameliorate human diseases including neurodegenerative and viral diseases.
Michael N Hall, PhD, Professor at the University of Basel's Biozentrum, studies cell growth and, in particular, the TOR (Target of Rapamycin) signaling network in yeast and mammals.  In the early 1990s, he discovered the highly conserved, nutrient-activated protein kinase TOR and subsequently elucidated its role as a central controller of cell growth and metabolism.  This discovery led to a fundamental change in how one thinks of cell growth.  It is not a spontaneous process that just happens when building blocks (nutrients) are available, but rather a highly regulated, plastic process controlled by TOR-dependent signaling pathways. As a central controller of growth and metabolism, TOR plays a key role in development and aging, and is implicated in disorders such as cancer, cardiovascular disease, diabetes, and obesity.
Erin Schuman, PhD, Director of the Max Planck Institute for Brain Research, Frankfurt, has a long-standing interest in molecular and cell biological processes that control protein synthesis and degradation in neurons and their synapses. Following her lab's initial discovery in 1996 that proteins made locally in dendrites are required for synaptic plasticity, she has pursued the identification of the mRNA and ribosome population present in neuronal dendrites and axons and is now turning to the nature and specialization of mRNA translation and protein degradation machines and mechanisms in neurons.
Click here for a complete list of all Vallee Visiting Professors.