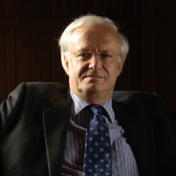 Prof Sir Christopher Dobson (1949-2019)
Members of the Vallee Foundation will be sad to learn of the death of Sir Christopher Dobson this weekend.  Chris was diagnosed earlier in the year with cancer and died peacefully on Sunday afternoon, 8 September 2019, at the Royal Marsden  hospital, surrounded by his family. 
As an undergraduate, DPhil student and research fellow, and later lecturer, reader and professor, Chris spent more than 30 years in the Oxford Chemistry department. It was there that he first began his groundbreaking research into protein aggregation and its role in Alzheimer's disease.  Moving to Cambridge in 2001 he later established the Chemistry of Health Building. 
Chris Dobson was one of the stalwart group of Oxonians (he had just been called to the Plummer professorship at Cambridge) who gathered in Vermont with Bert to discuss the purpose of a Vallee Foundation. Out of that meeting, the idea of Vallee Visiting Professors was conceived.  Chris took his own VVP sabbatical in 2016 at the University of Florence where he was hosted by Dr Fabrizio Chiti.
Beyond his research Chris was an inspirational mentor who transformed the lives of many around him – myself included. 
Carol Robinson, FRS, FMedSci
Director, The Vallee Foundation
Dr Lee's Professor of Physical Chemistry, University of Oxford