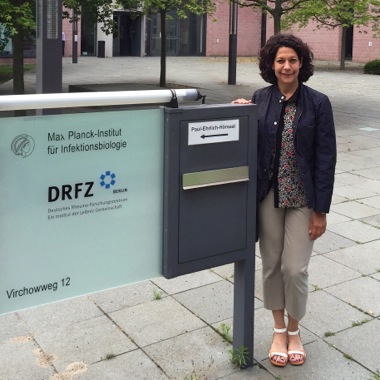 "One of the most fantastic trips of my life."
Bonnie Bassler (HHMI and Princeton University) has recently returned from a month in Berlin where she spent her VVP sabbatical at the Max Planck Institute for Infection Biology. 
Bonnie Bassler's group investigates cell-cell communication in bacteria, a process called quorum sensing that controls bacterial pathogenicity.  Arturo Zychlinsky, her VVP host, is a cell biologist and immunologist who studies infectious diseases from the host side.  One of his areas of focus is the neutrophil -- an immunological cell that plays a primary role in human defense against microbes.  By attending lab meetings, through one-on-one discussions with members of the Zychlinsky lab, and by having the time to read the group's research papers, Dr. Bassler enhanced her knowledge of eukaryotic systems and came away having set up exciting collaborations for the future.
During the month, Dr. Bassler gave three Vallee seminars: one at the FEBS Congress in Berlin on July 7, 2015, one at the Gulbenkian Institute in Lisbon, Portugal, on July 13, 2015, and one at the Max Planck Institute for Infection Biology in Berlin on July 16, 2015. All three seminars had one or more days associated with them devoted to interacting with other faculty, postdoctoral fellows, and graduate students.
Upon arrival back in the USA, Dr. Bassler wrote: "I'm home from my Vallee month.  It was magical!  Please tell the committee I say again thank you so much for choosing me. I now understand why the month-long time frame is such a spectacular idea. I had a completely immersive experience. As described in the Vallee information packet, I routinely go on science visits lasting 2-3 days. They are fascinating but jam-packed and I am home before I know it. The Vallee timing enabled me to get out of my routine. I had the luxury of time to think, to ponder, to reflect, to read, and to discuss science deeply. Having the freedom of unrestricted time (no meetings and no disturbances), allowed me to consider what science I want to do, redefine my research goals and priorities, and think through the parts of my job and which committees enable me to make valuable contributions. I adored being in someone else's lab. What was different is that the research problems the group was struggling with were not my problems to solve. Thus, the science was 100% enjoyable to me because I had no stress associated with having to fix technical or intellectual stumbling blocks, I did not need to make sure the graduate students and postdocs were succeeding, I did not have to wonder how we would ever get a publication from the data presented at lab meetings, etc. This "getting off my treadmill" aspect of the fellowship might have been the single most valuable feature of the fellowship.
Well, bottom line: it was one of the most fantastic trips of my life."