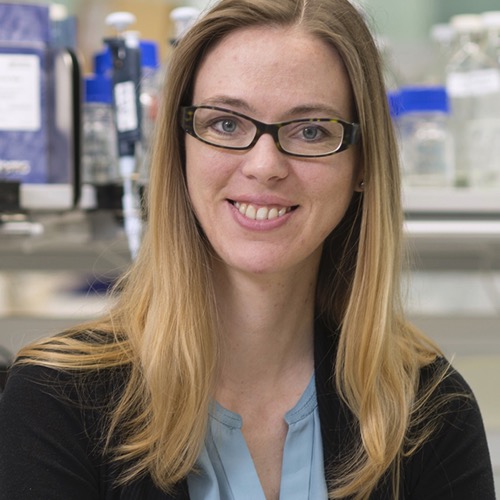 Madeline Lancaster is Blavatnik 2022 UK Young Scientist Award Winner
Vallee Scholar Madeline Lancaster, Group Leader in the Cell Biology Division at the MRC Laboratory of Molecular Biology, Cambridge, has been named the 2022 Blavatnik Young Scientist Award Winner in the UK in the Life Sciences category.  She has been recognized for her pioneering development of the first method for generating brain organoids from human induced pluripotent stem (iPS) cells, a technology that is ushering in a new era of neuroscience research. Her work using organoids to investigate the blood-brain barrier, primate brain evolution, and fetal brain development will help reveal fundamental knowledge about how human brains evolved and how they are affected by disease.
The Blavatnik Awards for Young Scientists in the United Kingdom celebrate the past accomplishments and future potential of the UK's most innovative young faculty-rank (academic staff) scientists and engineers working in the fields of Life Sciences, Physical Sciences & Engineering, and Chemistry.  Each year, one nominee in each category is named a Blavatnik Awards in the UK Laureate and awarded £100,000 in unrestricted funds, with two Finalists in each category both receiving £30,000. The Blavatnik Awards are supported by the Blavatnik Family Foundation and independently administered by the New York Academy of Sciences.
Madeline's lab conducts ground-breaking research using cerebral organoids to investigate human brain development. These organoids are generated from stem cells and allow modelling of complex, human brain development in vitro. This innovative method has led Madeline's group to study fundamental questions of life, including why humans have comparatively large brains compared to other mammalian species.
Her lab also researches the cellular mechanisms underlying uniquely human neurodevelopmental disorders, such as autism and intellectual disability. Madeline has also recently shown a further application of her brain organoids, in her group's study into how SARS-CoV-2 (the virus behind COVID-19) is able to infect brain cells, which may lead to long-term neurological complications.
Before arriving at the LMB in 2015, Madeline was a postdoctoral researcher at The Institute of Molecular Biotechnology of the Austrian Academy of Sciences (IMBA) in Vienna, where she developed the first brain organoids as a way to help study brain development. Prior to this, she earned her undergraduate degree in Biochemistry from Occidental College in Los Angeles, and her PhD in Biomedical Sciences from the University of California, San Diego, for a thesis project studying signalling at the primary cilium.
"This award is a defining moment in my career and I could not have done it without all the hard work and dedication of my team. To be recognised in this way is very encouraging and makes me even more excited about the future!" – Madeline Lancaster
Madeline will be honored at the Blavatnik Awards Ceremony on 28th February 2022.