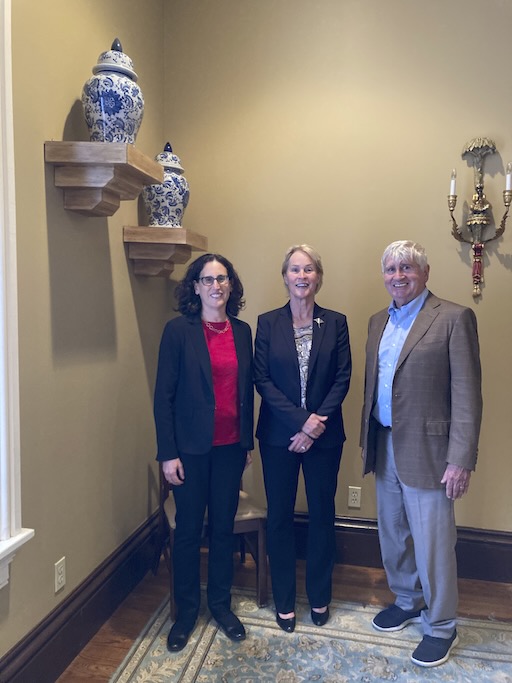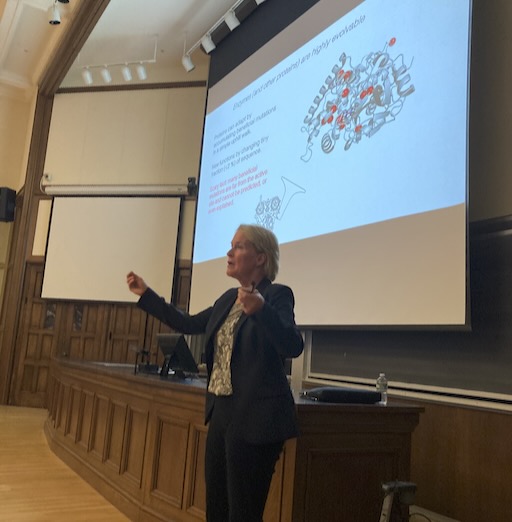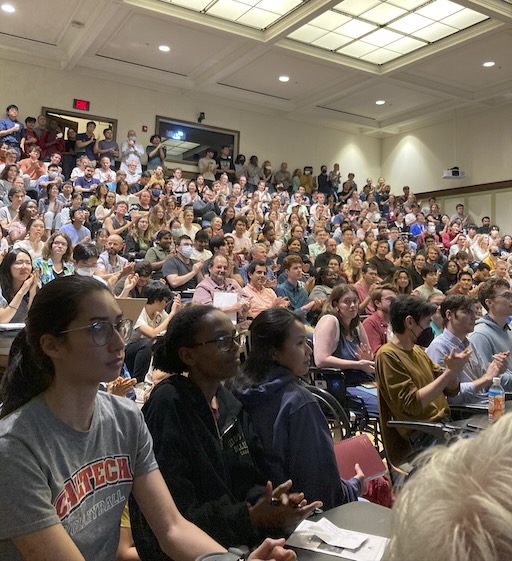 Frances Arnold gives 2023 Kuggie Vallee Distinguished Lecture at Yale
Dr Frances Arnold, the Linus Pauling Professor of Chemical Engineering, Bioengineering and Biochemistry at Caltech, gave the 2023 Kuggie Vallee Distinguished Lecture on September 14, 2023, at Yale University where she was hosted by Dr Sharon Hammes-Schiffer, Sterling Professor of Chemistry. The lecture hall was packed, with students sitting on the steps along both aisles and standing several layers deep in the back. Indeed, the audience was riveted from start to finish by Dr Arnold's compelling lecture entitled "Innovation by Evolution: Bringing New Chemistry to Life."  In a way that connected to everyone, Frances blended her current science with personal stories, including her experience as a Nobel Laureate and as a guest star on The Big Bang Theory. She was gracious in answering the many questions and talking to everyone who waited in a long line after her talk. Earlier that day, Frances met with faculty members and had lunch with a group of students in the Chemistry Department at Yale. After her seminar, at a dinner in her honor with faculty members as well as Dr Peter Howley, President of the Vallee Foundation, and Alexa Mason, Executive Director, Frances shared stories about her personal career path, including her current role as Co-Chair of the Presidential Council of Advisors for Science and Technology (PCAST). There is no doubt that Dr Arnold inspired both faculty and students through her lecture and personal interactions during her day at Yale.
 
On the following day, HFP Consulting led a workshop on Female Leaders in Science for faculty in the Chemistry and Molecular Biophysics and Biochemistry Departments. Twelve female faculty members attended a full day of activities, covering issues such as time management and strategic networking. This workshop will have longstanding impact on these faculty members individually and on their departments more broadly.