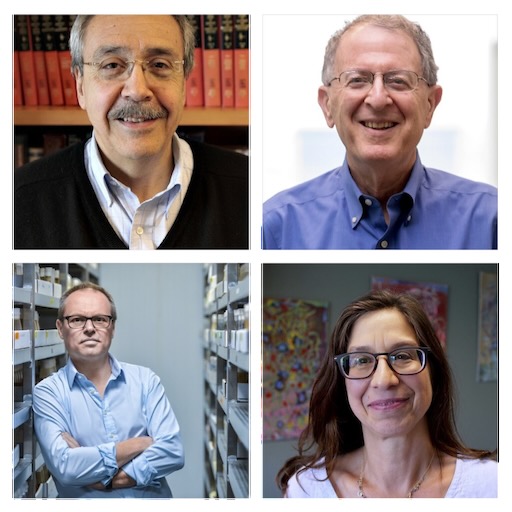 Four New Vallee Visiting Professors
We are delighted to announce the appointment of four internationally recognized leaders in the biomedical sciences as new Vallee Visiting Professors (VVPs).  This year's appointments honor Carlos Bustamante, PhD (University of California, Berkeley); Jeffrey Gordon, MD (Washington University School of Medicine); Gero Miesenböck, MD (University of Oxford); and Gina Turrigano, PhD (Brandeis University). In addition to a $25,000 honorarium, VVPs take a one-month sabbatical at a research institute of their choosing.  This provides an opportunity to explore new concepts and ideas, exchange scientific views, and establish and strengthen collaborative relationships with other researchers. In addition, VVPs become part of the Vallee community and their ongoing participation in programs such as the biennial summer symposia is integral to the growth and continuing success of the Vallee Foundation.
Carlos Bustamante, PhD, is a professor in the departments of Molecular and Cell Biology, Physics and Chemistry at the University of California, Berkeley, and an HHMI Investigator. As a biophysicist, his main work has been in the development of the area of single molecule force spectroscopy, i.e., the theoretical underpinning and experimental methods involved in the application of force to macromolecules one at a time, and the detection of those forces generated by those same molecules in the course of their biochemical reactions. His laboratory was the first to mechanically manipulate and stretch a single molecule of DNA to determine its elastic properties. Carlos will use his VVP sabbatical to organize an annual international summer course in advanced biophysics and structural biology at the University of Salamanca, Spain.  
Jeffrey Gordon, MD, is Director of the Edison Family Center for Genome Sciences and Systems Biology at Washington University School of Medicine, where he also holds the Dr Robert J Glaser Distinguished University Professorship. He is renowned for his discoveries of the role of variations in the gut microbiome in modulating normal human physiology and disease and developing microbiome-directed therapeutics for childhood undernutrition. Undernutrition, the leading cause of death in children under the age of five, and the cause of many devastating health problems including stunting, neurodevelopmental abnormalities, and metabolic and immune dysfunction, is not due to food-insecurity alone; many aspects of its pathogenesis remain uncharacterized and current treatments are inadequate.  Jeff will spend his VVP sabbatical in Bangladesh working with colleagues at the International Centre for Diarrhoeal Disease Research, Bangladesh (icddr,b).
Gero Miesenböck, MD, is Waynflete Professor of Physiology and Director of the Centre for Neural Circuits and Behaviour at the University of Oxford.  Gero devised and demonstrated the approach now known as optogenetics. He was the first scientist to modify neurons genetically so that their electrical activity could be controlled with light, and he was the first to use this form of optical remote control to insert artificial messages into the brain.  His current interest centers on the biological function and neuronal control of sleep. He has discovered that sleep-inducing neurons in the fly brain estimate sleep need from the fate of electrons entering the transport chains of their own mitochondria.   For his VVP sabbatical, Gero will join distinguished scientists who share his interests in using the fly model to gain a mechanistic understanding of cognitive processes.
Gina Turrigiano, PhD, is the Joseph Levitan Professor of Biology at Brandeis University where she studies the plasticity mechanisms that allow our brains to adapt and to remain both plastic and stable. Over the past two decades her work uncovered a family of homeostatic plasticity mechanisms, including Synaptic Scaling and Intrinsic Homeostatic Plasticity, that allow neurons to adjust their own excitability to maintain stable activity, preserve information flow in the face of outside perturbations, and prevent the development of hyper or hypoactivity. She is currently exploring the role of these homeostatic mechanisms in information storage and integrity during learning, and probing how these processes break down in neurological disorders such as Autism Spectrum Disorders in which homeostatic plasticity is impaired.  A month-long sabbatical at the Champalimaud Institute for the Unknown in Lisbon, Portugal, will give her a chance to interact and collaborate with several of their neuroscientists who are working in the same field.