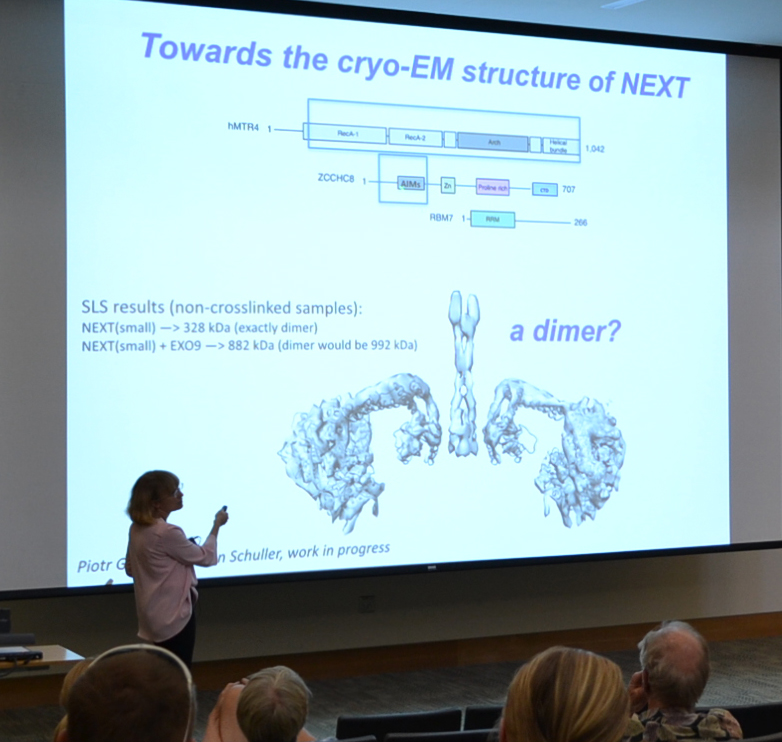 Elena Conti in Boulder
Elena Conti, Director of the Max Planck Institute of Biochemistry in Munich, has recently returned from her Vallee Visiting Professorship at the University of Colorado, Boulder.  Elena's long-standing interest in RNA metabolism has given her a comprehensive understanding of the molecular mechanisms of RNA transport and degradation, but with her background in structural biology she was eager to explore things with leading RNA-biology researchers.  Her VVP sabbatical was timed to coincide with the school break, which meant her "beyond welcoming" hosts, Roy Parker (Endowed Chair of Biochemistry and HHMI Investigator) and Tom Cech (Distinguished Professor of Biochemistry, HHMI Investigator and Director of the BioFrontiers Institute), were free from teaching duties and had plenty of time to meet and discuss ideas.   Elena attended their weekly group meetings and met individually with group members.  She also discovered that the location of her office – kindly lent to her by Olke Uhlenbeck - in the center of the JSCB building, facilitated impromptu discussions on nucleic acids, protein complexes, new technologies, the RNA field and science in general as colleagues stopped by to talk.
Elena's Vallee Lecture was timed for the last week of August when the entire campus was buzzing with students. It was the inaugural Biochemistry lecture of the new academic year and, in the spirit of the VVP program, Dr Conti discussed work in progress and unpublished results. The auditorium was full, and the post-lecture questions were very insightful. 
"Before my VVP sabbatical, I did not know what to expect: I had never been in Boulder before and only rarely in the non-coastal regions of the American West. I also had no special personal connections to researchers in Boulder before. I knew their scientific accomplishments, of course, and had good vibes from interactions at meetings, but I was not anticipating they would all be so unconditionally welcoming. On the scientific side, the discussions were truly inspiring and coalesced into new ideas on how to tackle the questions in RNA biology I had been thinking about. On the personal side, I felt I fitted right in, sharing the same values and the same attitude in science and life. We were friendly acquaintances when we arrived. We were friends when we left. I am so very grateful to the Vallee Foundation for making all this happen!"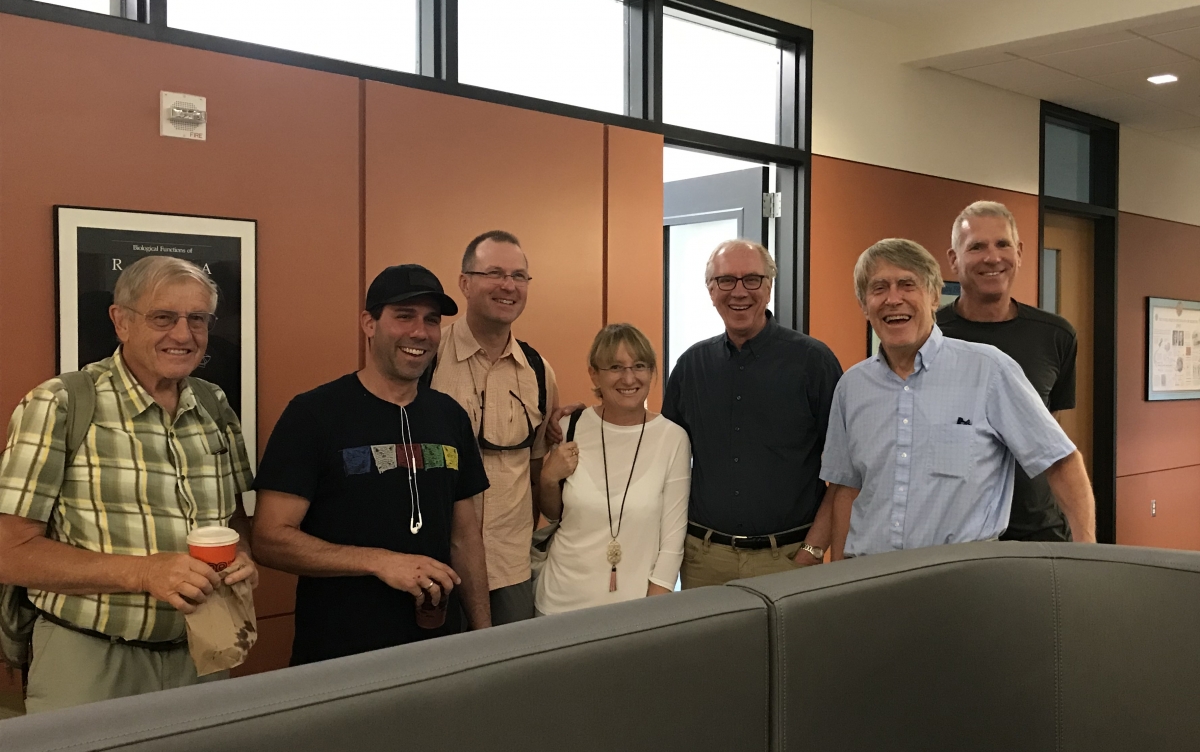 On the fourth floor of the JSCB building, CU Boulder. From right: Roy Parker, Olke
Uhlenbeck, Tom Cech, Elena Conti, Jürg Müller, John Rinn and Marv Caruthers.