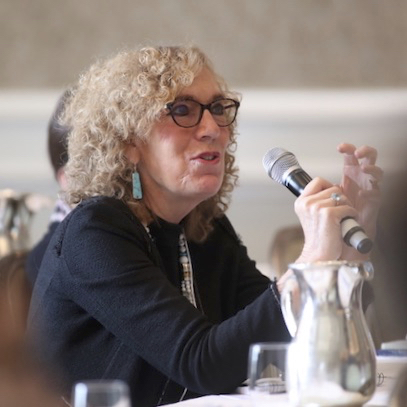 Elaine Fuchs awarded 2020 Canada Gairdner Award
Congratulations to Vallee Visiting Professor Elaine Fuchs who has been awarded a prestigious 2020 Canada Gairdner International Award for Biomedical Science!  A renowned cell biologist, Elaine Fuchs, Rebecca C Lancefield Professor and head of the Robin Chemers Neustein Laboratory of Mammalian Cell Biology and Development at the Rockefeller University and HHMI Investigator, is being recognized for her work on the molecular mechanisms by which skin stem cells make and repair tissues.
Dr Fuchs has used skin to study how the tissues of our body are able to replace dying cells and repair wounds. The skin must replenish itself constantly to protect against dehydration and harmful microbes. In her research, Fuchs showed that this is accomplished by a resident population of adult stem cells that continually generates a shell of indestructible cells that cover our body surface.
In her early research, Fuchs identified the proteins—keratins—that produce the iron framework of the skin's building blocks, and showed that mutations in keratins are responsible for a group of blistering diseases in humans. In her later work, Fuchs identified the signals that prompt skin stem cells to make tissue and when to stop. In studying these processes, Fuchs learned that cancers hijack the fundamental mechanisms that tissue stem cells use to repair wounds. Her team pursued this parallel and isolated and characterized the malignant stem cells that are responsible for propagating a type of cancer called "squamous cell carcinoma." In her most recent work, she showed that these cells can be resistant to chemotherapies and immunotherapies and lead to tumor relapse.
All tissues of our body must be able to replace dying cells and repair local wounds. Skin is particularly adept at performing these tasks. The identification and characterization of the resident skin stem cells that make and replenish the epidermis, sweat glands and hair provide important insights into this fountain of youth process and hold promise for regenerative medicine and aging. In normal tissues, the self-renewing ability of stem cells to proliferate is held in check by local inhibitory signals coming from the stem cells' neighbours. In injury, stimulatory signals mobilize the stem cells to proliferate and repair the wound. In aging, these normal balancing cues are tipped in favour of quiescence. In inflammatory disorders, stem cells become hyperactivated. In cancers, the wound mechanisms to mobilize stem cells are hijacked, leading to uncontrolled tissue growth. Understanding the basic mechanisms controlling stem cells in their native tissue is providing new strategies for searching out refractory tumor cells in cancer and for restoring normalcy in inflammatory conditions.
The Gairdner Foundation was established in 1957 by Toronto stockbroker, James Gairdner to award annual prizes to scientists whose discoveries have had major impact on scientific progress and on human health.