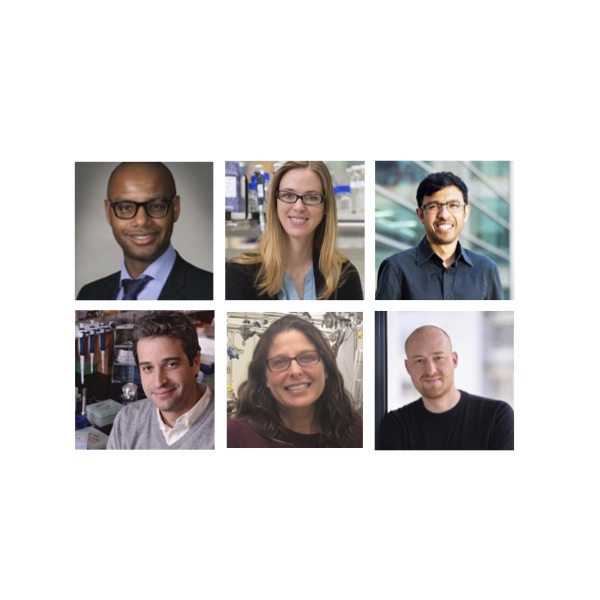 Six New Vallee Scholars - 2021
Six newly-appointed Vallee Scholars will each receive $340,000 to further their research over the next four years.  The Vallee Scholar program continues to provide unrestricted funding for national and international early career researchers at a critical stage in their tenure-track careers. This year's candidates were particularly well qualified, but these six stood out.  Comments from the selection committee included: "Extremely impressive body of work for someone at this stage." "Spectacular career path that demonstrated leadership in an important field, remarkable productivity, and the capacity to make major scientific contributions." "… has a track record to take risks and succeed." "A brilliant scientist, a strong application package, stellar reference letters, leadership in mentoring, outreach and services."  We are delighted to welcome the following outstanding scientists to the Vallee community.

Jonathan Abraham, MD, PhD, is an Assistant Professor of Microbiology at Harvard Medical School. His lab uses methods in structural biology, immunology, and molecular virology to study surface envelope glycoproteins of emerging viruses.  Particularly relevant today, his long-term goal is for his research to lead to the next generation of vaccines or antibody-based therapies that broadly protect against emerging viruses before they cause major outbreaks.

Madeline Lancaster, PhD, is a Group Leader in the Cell Biology Division of the Medical Research Council Laboratory of Molecular Biology (LMB), part of the Cambridge Biomedical Campus in the UK. The Lancaster lab studies the most fundamental differences between the human brain and that of other mammalian species by using stem cell-generated brain organoids to model human brain development in vitro. 

Aashish Manglik, MD, PhD, is an Associate Professor in the Departments of Pharmaceutical Chemistry and Anesthesia at the University of California, San Francisco. His lab aims to develop new approaches to decode the stimuli that "orphan" G protein coupled receptors (GPCRs) sense. His hope is that this will identify new channels that cells use to communicate with each other, thereby providing new insight into human physiology and disease.

Ricardo Mallarino, PhD, is Assistant Professor of Molecular Biology at Princeton University.  The goal of his lab is to uncover the molecular mechanisms that give rise to specific morphological, physiological, and behavioral traits, both within a species and over evolutionary time to generate variation across species. To achieve this, his lab develops genomic and experimental resources in emerging mammalian model species that have diverse, ecologically relevant phenotypes, and integrates approaches from multiple disciplines, including developmental biology, bioinformatics, and evolutionary genomics.

Lisa Olshansky, PhD, is an Assistant Professor in the Department of Chemistry at the University of Illinois, Urbana-Champaign. Research in her lab is focused on testing the hypothesis that conformational control represents an efficient way to interconvert different forms of energy (e.g. converting pH changes, light, or binding events into chemical potential energy). Through the construction of switchable artificial metalloproteins, Olshansky is working to dissect the kinetic and thermodynamic consequences of conformational control and hopes to create an array of switchable systems and catalysts that can be applied to solve challenges in biomedicine.

Julian Stingele, PhD, is a Tenure-Track Professor at the Gene Center and the Department of Biochemistry of the Ludwig-Maximilians-University Munich, Germany. His laboratory combines biochemical and genetic approaches to study the endogenous sources of DNA and RNA damage as well as the mechanistic principles governing the cellular responses to these threats. Ultimately, he hopes to reveal how the damage caused by endogenous reactive metabolites to genome, transcriptome, and proteome causes aging, neurodegeneration and cancer. 

Vallee Scholars
The Vallee Scholar Awards Program recognizes outstanding early career scientists at a critical juncture in their careers. Each Scholar receives $340,000 in discretionary funds to be spent over four years for basic biomedical research. Candidates are competitively selected based on the originality and innovation of their science, the quality of their proposal as evidenced by ideas and execution, and their record of accomplishment.  Since 2013, 41 junior faculty have been appointed Vallee Scholars for an investment total of almost $12 million.

About the Vallee Foundation
The Vallee Foundation was established by Bert and Kuggie Vallee as their legacy to the advancement of medical science and medical education. The Foundation stimulates development of interdisciplinary sciences related to human health by promoting interaction between productive scientists worldwide.  For further information see our website.