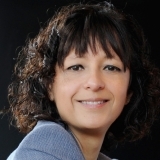 Emmanuelle Charpentier wins Wolf Prize
Many congratulations to Vallee Visiting Professor Emmanuelle Charpentier (Max Planck Institute for the Science of Pathogens, Berlin) who has been awarded this year's Wolf Prize in Medicine along with her colleague Jennifer Doudna (University of California, Berkeley) for their work in developing the gene-editing tool CRISPR. The Wolf Foundation said their research has the potential to "revolutionize medicine by paving the way to finding new forms of treatment for currently incurable diseases." Like a tiny pair of scissors, CRISPR-Cas9 is a precisely targeted editing tool that can be used to activate, turn off, alter, repair or remove a gene. 
The Wolf Prize is the most prestigious international prize awarded in Israel. Recipients, who come from around the globe, are renowned scientists and artists who have made significant breakthroughs and extraordinary achievements to the benefit of all. Since 1978, the Wolf Prize has been awarded annually on a rotating basis, usually in four or five of the fields of agriculture, mathematics, medicine, physics, chemistry and the arts. Thirty percent of Wolf Prize winners have gone on to receive a Nobel Prize. 
This year's winners will be presented the prizes on June 11 in Jerusalem.